Source of the photo
https://www.dreamstime.com/stock-illustration-chemical-element-scandium-periodic-table-symbol-as-seen-elements-including-atomic-number-atomic-weight-image94233965
Author of the description
Vaszita Emese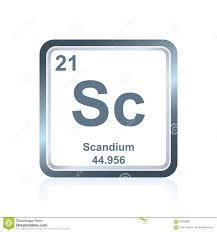 CHEMICAL SUBSTANCE DATASHEET
CHEMICAL SUBSTANCE IDENTIFICATION

Chemical name                 

 Scandium

Synonyms                           

scandium, Sc, scandium metal powder, scandium lump, scandium pieces, scandium ingot, scandium foil

IUPAC name

 Scandium [1]

CAS No

 7440-20-2 [1]

REACH registration number

 

EC No

Molecular formula              

  Sc

Substance group/chemical family

 metals / transition metal

Scandium is a transition metal and it is also considered a rare earth element  because it is often found in rare-earth ores. It also shares many of the same chemical properties of other rare-earths. [5, 7]

Appearance

Physical state

Odour

Form

   

 

 

Colour

 

 solid at 20 °C

 

Scandium is not found free in nature but combined in minute amounts in over 800 minerals. Sc occurs as a principal component in the rare mineral thortveitite, found in Scandinavia and Malagasy [3,7]  

 

Silvery. It develops a slightly yellowish or pinkish cast when oxidized by air. [2]

USES AND HANDLING ISSUES

Relevant identified uses

Advanced material composites:  Sc F3 a material with negative thermal expansion coefficient. [5]

Scandium is used in aluminum-scandium alloys for aerospace industry components and 3D printing as well as in Solid Oxide Fuel Cell (SOFC) applications  and for sports equipment such as bicycle frames, fishing rods, golf iron shafts and baseball bats [5]

Scandium iodide is used in mercury vapor lamps, which are used to replicate sunlight in studios for the film and television industry. Scandium oxide (scandia) is used to make high intensity "stadium" lights. Sc2O3 and ScVO4 are typical host materials for phosphorus in monitors. [5]

The radioactive isotope 45Sc is used in oil refineries as a tracing agent. [5]

Very dilute scandium sulfate is used to improve the germination of seeds such as corn, peas and wheat. [5]

Handling considerations

 

PHYSICO-CHEMICAL PROPERTIES

Molecular weight                                  

 44.96 g/mol [3]

Bulk density/Specific gravity

 2.985 g/cm3 [2]

pH

 

Particle size

  

EC

 

Melting point

  1541°C [3]

Boiling point

  2836°C  [3]

Flash point

 

Flammability

 

Vapour density

 

Vapour pressure

 

Solubility in water

 

Solubility in organic solvents

 

Solubility in inorganic solvents

 Scandium dissolves slowly in most dilute acids [2]

Hydrolysis

 

Ionicity in water

 

Surface tension

 

Dispersion properties

 

Specific surface

 

Stability and reactivity

Chemical stability

 

Reactivity hazards

 

Corrosivity

 

Polimerization

 

Incompatibility with various substances

 

Special remarks on reactivity

Scandium turnings ignite in air with a brilliant yellow flame to form scandium oxide [2,3]

It is not attacked by a 1:1 mixture of HNO3 and 48% HF. [2, 3]

It reacts with water to form hydrogen gas [3, 5, 6]

Scandium reacts with many acids [5]

Pure scandium is produced by heating scandium fluoride (ScF3 )  with calcium metal. [6]

Physical, chemical and biological coefficient

Koc

 

Kow

 

pKa

 

log Kp

  

Henry-constant

 

ENVIRONMENTAL FATE AND BEHAVIOUR

Artificial pollution sources

Scandium is dumped in the environment in many different places, mainly by petrol-producing industries. It can also enter the environment when household equipment is thrown away. Scandium will gradually accumulate in soils and water soils and this will eventually lead to increasing concentrations in humans, animals and soil particles. Sc may cause damage to the cell membranes of water animals, which may influence  reproduction and the functions of the nervous system. [6]

General terrestrial fate

 

General aquatic fate

 

General atmospheric fate

 

General persistence and degradability

 

Abiotic degradation and metabolites

 

Biodegradation and metabolites

 

Bioconcentration

 

Volatilization

 

Photolysis

 

Hydrolysis

 

Soil adsorption and mobility

 

ENVIRONMENTAL CONCENTRATIONS

Measured data

Scandium is not rare in the Earth's crust. Estimates vary from 18 to 25 ppm, which is comparable to the abundance of cobalt (20–30 ppm). Scandium is only the 50th most common element on Earth (35th most abundant in the crust), but it is the 23rd most common element in the Sun. However, scandium is distributed sparsely and occurs in trace amounts in many minerals [2, 4]

ECOTOXICOLOGICAL INFORMATION

General adverse effects on ecosystem

Acute toxicity (LC50, EC50)

Aquatic systems

 

Terrestrial systems

  

Chronic toxicity (NOEC, LOEC)

Aquatic systems

  

Terrestrial systems

  

HUMAN HEALTH EFFECTS and PROTECTION

Routes of human exposures

  

 

General effects

 Scandium is considered to be of low toxicity. [5]

Endocrine disruption

 

Mutagenicity

 

Carcinogenicity

  

Reprotoxicity

 

Teratogenicity

 

Skin, eye and respiratory irritations

 

Metabolism:

absorption, distribution & excretion

 

Exposure limits

  

Drinking water MAC

 

Other information

Only trace amounts reach the food chain, so the average person's daily intake is less than 0.1 microgram.[6]

Scandium is mostly dangerous in the working environment, due to the fact that damps and gasses can be inhaled with air. This can cause lung embolisms, especially during long-term exposure. Scandium can be a threat to the liver when it accumulates in the human body. [6]
Animal toxicity data

Acute toxicity (LD50)

  

Chronic toxicity (NOEL, LOEL)

 

ENVIRONMENTAL STANDARDS AND REGULATIONS

EINECS regulation

̵

OSHA regulations etc.

 

 

 

OTHER INFORMATION, SPECIAL REMARKS

Classification and proposed labelling with regard to toxicological data

Danger! According to the classification provided by companies to ECHA in CLP notifications this substance is a flammable solid and is an extremely flammable liquid and vapour. [1]

 

 

CREATED, LAST UPDATE

Created

2019. 04. 03.

Last update

2019. 04. 04.

REFERENCES

 [1] ECHA, European Chemical Agency, Scandium, https://echa.europa.eu/hu/substance-information/-/substanceinfo/100.028.299, Accessed: 2019.04.03

 [2] Wikipedia, Scandium https://en.wikipedia.org/wiki/Scandium,  Accessed: 2019.04.03

 [3] Periodic Table of Elements, Scandium https://periodic.lanl.gov/21.shtml,  Accessed: 2019.04.03

[4] Lide, David R. (2004). CRC Handbook of Chemistry and Physics. Boca Raton: CRC Press. pp. 4–28. ISBN 978-0-8493-0485-9.

 




[5] "Scandium." Chemicool Periodic Table. Chemicool.com. 18 Oct. 2012. 

 

http://www.chemicool.com/elements/scandium.html   Accessed: 2019.04.04

 

[6] Scandium-Sc, Periodic Table, Lenntech, Water Treatment Solutions  https://www.lenntech.com/periodic/elements/sc.htm#ixzz5k7SWoSXG, Accessed: 2019.04.04

 

[7] Science notes, Scandium Facts https://sciencenotes.org/scandium-facts/  Accessed: 2019.04.04