Source of the photo
http://www.ezilon.com/maps/asia/china-maps.html
Author of the description
GK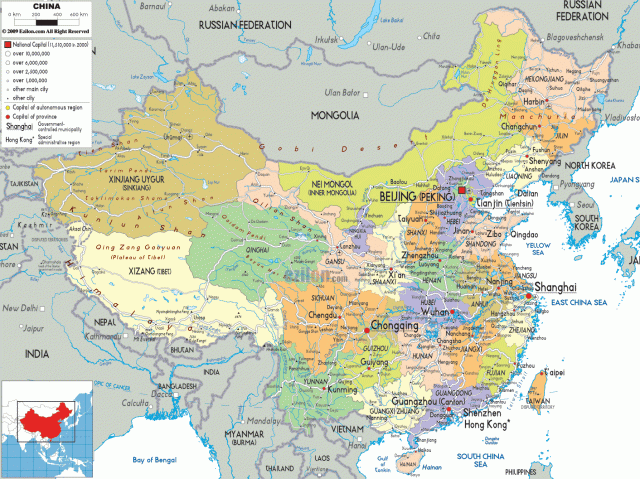 China covers 9.6 million square kilometres, it is the world's second-largest country by land area, but only the third or fourth-largest by total area, dependent on whether the surface areas of various inland bodies of water such as the Great Lakes are included in the total area of a country.
China's landscape is vast and diverse, ranging from forest steppes and the Gobi and Taklamakan deserts in the arid north to subtropical forests in the wetter south.
The Himalaya, Karakoram, Pamir and Tian Shan mountain ranges separate China from South and Central Asia. The Yangtze and Yellow Rivers, the third- and sixth-longest in the world, run from the Tibetan Plateau to the densely populated eastern seaboard.
China's coastline along the Pacific Ocean is 14,500 kilometres long, and is bounded by the Bohai, Yellow, East and South China Seas.
Source of description
http://www.ezilon.com/maps/asia/china-maps.html
http://en.wikipedia.org/wiki/China